Probable Pitchers:
Monday: Chase Anderson (5.50 ERA, 5.36 DRA, 6.9 K/9) v. Braden Shipley (MLB Debut)
Anderson faces his old team for the first time amidst perhaps the worst stretch of his career. He hasn't seen the sixth inning since June 8th, and he owns a dreadful 9.13 ERA during that span. He currently renders most games he appears in unwatchable, a fact that is somewhat mitigated on Monday by the presence of Braden Shipley, the Diamondbacks' No. 1 prospect who is making his major league debut. The 24-year-old, 2013 first rounder has a 3.70 ERA with a strikeout rate of 15.5% with Triple-A Reno.
Tuesday: Matt Garza (5.94 ERA, 5.17 DRA, 5.4 K/9) v. Patrick Corbin (5.23 ERA, 4.50 DRA, 6.7 K/9)
Speaking of Brewers starters who currently render baseball games nigh-unwatchable, folks Matt Garza is here to make your miserable life even worse. Since kicking off his 2016 campaign with a pair of decent starts, Garza has surrendered at least four runs every time out. If watching the other team score a bunch of runs is your bag, though, Wednesday's game ought to be fun for you. Opposing Garza will be Corbin, who was supposed to solidify the middle of a strong Diamondbacks starting rotation but instead has been nearly as big a disappointment as offseason acquisition Shelby Miller is.
Wednesday: Jimmy Nelson (3.40 ERA, 5.16 DRA, 6.5 K/9) v. Archie Bradley (4.44 ERA, 3.41 DRA, 8.8 K/9)
This matchup features a pair of pitchers who have four first names between them, and as such I am bound by my own moral compass not to watch it. Bradley is a 55 FV prospect per FanGraphs who is pitching pretty well in his first full-ish season with the big league club. Nelson is trying his best, most likely.
Thursday: Zach Davies (3.64 ERA, 3.60 DRA, 7.3 K/9) v. Robbie Ray (4.53 ERA, 3.83 DRA, 10.9 K/9)
Not only does Ray have two first names, his alliterative name is also immune to spoonerisms, making him among the most poorly named people of all time. He owns an impressive 26.8% strikeout rate which doesn't even remotely begin to atone for the grievous wrongs forced upon him by his callous, unthinking parents. Davies continues to shine in July as he tries to rehabilitate his numbers from a stumble in late June. He shut down the Cubs on Saturday in Milwaukee's lone win over the weekend, allowing one run on three hits over 6.1 innings.
Series History:
2016: No Games
All-time: 62-63 (28-32 in Milwaukee)
Are the Diamondbacks Good?
Not at all, which is extremely bad given how Arizona has behaved over the past year — that is, like a drunk trust fund baby with his daddy's credit card and an overwhelming thirst to ball out of control at Nordstrom. The Diamondbacks went all the way in on 2016, paying through to nose to acquire 32-year-old Greinke and mortgaging their future in a series of baffling trades with Atlanta. The results? a 41-57 team with a bottom five pitching staff and a thinned-out farm system with little impact talent outside the pair of rookie pitchers that are starting in this series. Greinke started the year poorly and is now injured, and Miller was so bad that he was demoted to Triple-A last week. Things outside the team's control (injuries, the eternal machinations of karmic balance, etc.) have contributed to the DBacks' disappointing summer, which friend of the program Charlie Gebow will outline a little further down the page, but for a team that was entertaining championship hopes in March, this season can't be categorized as anything other than abject disaster.
Diamondbacks Players to Watch:
3B Jake Lamb: In a season in which just about everything possible has gone as bad as it could have, Lamb is an outlying bright spot. His 3.3 fWAR this season ranks eighth in the National League and either second or third among NL third basemen, depending on what you categorize Kris Bryant as these days. He somehow leads a team that employs Paul Goldschmidt in home runs (21), OPS (.970) and wRC+ (149).
Former Brewers Middle Infielders: You of course remember that Jean Segura was traded to Arizona this offseason, and he's making me look very dumb by continuing to hit for average for the first time in his stupid, dumb career. Segura's slashing .316/.364/.451 and ranks fourth among NL second basemen in fWAR. What may, perhaps, have escaped your consciousness is that Arizona also employs erstwhile Brewers second basemen Rickie Weeks. He hasn't really been very good, which is a thing you've been able to say about Weeks since 2011, but hey: he gets to play baseball for a living, and last night he hit cleanup for a Major League Baseball team.
If the Diamondbacks were a Taylor Swift GIF, which one would they be?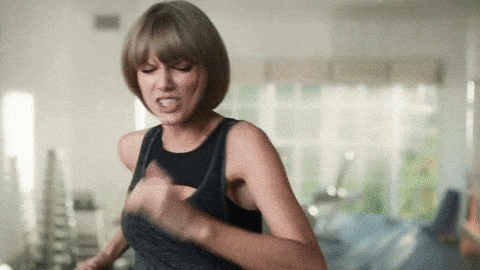 Milwaukee Broadcast Information:
Monday: 6:20 pm on FS Wisconsin and WTMJ 620
Tuesday: 7:10 pm on FS Wisconsin and WTMJ 620
Wednesday: 7:10 pm on FS Wisconsin and WTMJ 620
Thursday: 1:10 pm on WTMJ 620 (No TV)
Let's Talk To An Diamondbacks Fan!
Hey look! It's the return of this section! This week I grabbed AZ Snake Pit's Charlie Gebow (@CLEFOAINTACRIME) to chat about his favorite baseball team. It seems like things have been going really well for him! Check out his uplifting, optimistic take:
The Diamondbacks are not very good this year. A mix of bad roster construction and injuries have them last place in the NL West which is not ideal, unless you really hate the Diamondbacks which is your prerogative but I don't think we're going to be friends. Losing AJ Pollock in the preseason has forced a variety of middle infielders, catchers and Michael Bourns to fill in. Losing David Peralta for an extended period of time has forced dudes who are natural infielder's and Yasmany Tomas to fill in. So an outfield defense that was one of the best in the majors last year has turned into one of the worst. So that's fun.
Zack Greinke was the big signing of the offseason obviously. He had a bad start to the year, but started to show signs of his previous dominant form. Of course, not too long after that he went on the disabled list with an oblique injury, because life is pointless. The offseason move that really hurt was the Shelby Miller trade. Not only was a #1 overall pick, a well-regarded pitching prospect, and a good defensive outfielder given up, Miller has been poop. He's currently in Triple-A.
Good things for the Diamondbacks? Nobody has died. Paul Goldschmidt is still awesome. Jake Lamb has launched himself into the top tier of third basemen in the league. Also we acquired this guy in the offseason from… somewhere. I forget. His name is Jean something. He's currently putting up career highs in all the triple slash categories. He's doing well and seems cool. You guys should find a guy like him. This series is also going to debut Braden Shipley, current #1 prospect by default, so that's cool. Also, we're giving Rickie Weeks gainful employment.
I have no idea if the Diamondbacks are going to sell at the deadline. This ownership and general management group are the most Chaotic Neutral [Ed. note: HA! NERD!] I have ever seen. Something insane is going to happen. If I wasn't dead inside from watching the 2016 Diamondbacks I'd probably feel something about it. Also, the uniforms, for the most part, are alright. Don't @ me. Weirdly, the Diamondbacks have yet to win a game this season while wearing a red hat. Unfortunately for you they only wear those at home. Nothing more to add really. The 2016 Diamondbacks inspire a level of ennui and nihilism I never thought I had before. It's fun!
Can I Hang Out with Travis at the Baseball Game?
Maybe! I haven't decided whether or not to attend any of this week's games just yet. Keep an eye out!!