Game Times, Promotions and Broadcast Information:
Friday: 7:10p on FSWI and 620WTMJ (Star Wars Night, Braun Solo bobblehead*)
Saturday: 6:10 on FSWI and 620WTMJ (Chorizo bobblehead*)
Sunday: 1:10p on FSWI and 620WTMJ (Lightweight hoodie, first 20,000)
*Special theme night ticket package required
Probable Pitchers:
Friday: Junior Guerra (0.82 ERA, 22 IP, 23.9 K%) v. Nick Kingham (0.00 ERA, 7 IP, 40.9 K%)
These two pitchers have combined to allow exactly one earned run between them this year (I'm not counting the "double" Javy Baez skied last weekend against Guerra, and there's nothing you can do about it). Guerra has been dominant to an extent not even seen in his breakout 2016 season thus far, giving hope to fans who wanted to believe that last year was in fact the outlier. He's generating a ton of poor contact, evidenced by a 28.6% infield fly ball rate and a 25.5% soft contact rate. According to Jeff Sullivan and Baseball Savant, Guerra has the largest increase in spin rate in baseball this season. I don't know what this means but he's doing great so I think it's nice.
Kingham very nearly blew the god damn lid off of the baseball world in his major league debut, as he carried a perfect game into the seventh inning against the Cardinals. Kingham isn't a highly regarded prospect, and seven innings of work isn't enough to get worked up about. Kingham has a big fastball and he fills up the strike zone, but his breaking stuff is below average.
Saturday: Jhoulys Chacin (4.54 ERA, 33.2 IP, 12.9 K%) v. Jameson Taillon (4.83 ERA, 31.2 IP, 21.6 K%)
JO-lease sha-SEEN will pitch Saturday in place of Zach Davies, who will have his start skipped for a brief DL stint due to rotator cuff inflammation (he is expected to miss only one start). He was unable to finish the fifth inning his last time out, allowing four runs on five hits and three walks in Milwaukee's desperately-needed win against the Reds on Monday. Chacin's 12.9% strikeout rate is the 3rd-lowest in the National League among qualified starters, and only the Braves strikeout less than the Pirates in the NL, so expect the Brewers defense to have plenty to do Saturday.
The major league results have yet to match the enormous hype that followed Taillon, a former No. 2 overall pick, throughout his minor league career. Still, he's only 26, and even though he hasn't been the staff-defining ace many pictured, he's been more than serviceable. Taillon had surgery for testicular cancer last year and was back pitching in a god damn month, so to me he is a bad ass.
Sunday: Chase Anderson (3.38 ERA, 40.0 IP, 16.8 K%) v. Chad Kuhl (5.01 ERA, 32.1 IP, 19.7 K%)
If you're checking out Mitch Haniger's line in Seattle and finding yourself with a tiny twinge of regret for the trade that sent him to Arizona, despite Chase Anderson's performance, I have two pieces of great news for you. The first is that after a few early hiccups, Anderson looks to still be the pitcher he's been over the past year and a half, complete with a return of his fastball velocity. The second is that those were two different trades, and the Haniger trade tree actually netted the crew Davies, by way of Gerardo Parra.
I don't care enough about Chad Kuhl to write anything other than this sentence about him, and you shouldn't either.
Series History:
2018: First meeting
All-time: 181-148 (106-60 in Milwaukee)
Milwaukee's historic run of dominance over Pittsburgh, during which they went 69-24 against the Pirates over a six year span, is over. Since 2013, Milwaukee and Pittsburgh have been nearly dead even, with Milwaukee taking 47 games to Pittsburgh's 48.
Are the Pirates good?
Meh. The Pirates got off to a hot start, winning nine of their first 12 games and sprinting out to an early three game lead in the NL Central. They've slowed since, including a recent five game win streak sandwiched between four and five game losing streaks, the former of which the Brewers will try to extend this weekend. The Pirates have been better than anticipated this year, led by a resurgent offense starring Corey Dickerson, whom the Rays gave away for nothing because they didn't want to pay his modest $6 million salary.
If the Pirates were a WWE wrestler, which would they be?
The Pirates would be Kairi Sane.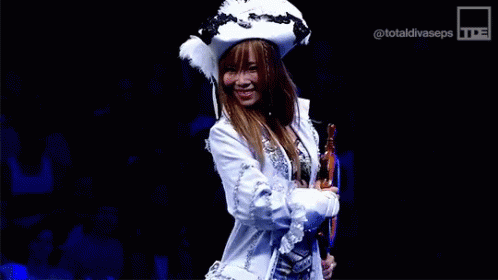 The Pirates would be Kairi Sane because Kairi is a pirate. And they are the Pirates. I put a lot of thought into this. Please like and subscribe.
Who's hot, who's not:
🔥🔥🔥 Francisco Cervelli, C: Cervelli has been sizzling all season, but he's been white hot over the past week,  posting a 1.319 OPS with a pair of home runs in 18 at bats. Cervelli leads all catchers with a 167 wRC+ (min. 90 PA).
🔥🔥🔥 Lorenzo Cain, CF: Despite a .188 batting average over his last six games, Cain still leads all Brewers with an .847 OPS thanks to a ridiculous 27.3% walk rate and a couple of extra base hits. He also swiped three bags last week, solidifying himself as the Brewers offensive star to start the season.
❄️❄️❄️ Manny Pina, C: Outside his home run against Cincinnati that broke Milwaukee's 23 inning scoreless streak at a time when it seemed they might never score again, Pina has had a rough go since returning from the disabled list on April 24. He's had just three hits in 26 at bats, walking once with five strikeouts.
❄️❄️❄️ Eric Sogard, 2B: Sogard has been the worst part of a lifeless three-headed second base platoon that is by far the worst in the National League. He has just two hits in his last 35 at bats, and is mired in a 0-for-22 slump. Still, Sogard is hitting the ball harder this year than he ever has in his career, and he's been the victim of a .158 BABIP that has robbed him of base hits.