The Milwaukee Brewers' season is over. With a 12-6 loss at Miller Park on Sunday night, the Brewers have been eliminated from the 2011 postseason. This year had more fireworks and more victories than all but one year in club history but for the 41st time in 41 tries, the Milwaukee Brewers will not bring home a World Series Championship.
An embarrassing Game Six to end the season will leave a sour taste in many mouths and the wrong picture in the eyes of those who did not watch this team all year. Please, do not let that be your lasting memory of this team.
Think back to 2010. This was the biggest moment at Miller Park in 2010:
That is Trevor Hoffman picking up his 600th save. It was a pretty cool moment, by itself, I guess. But it was not a cool moment if you watched him suffer and slog through a season with all his talent sapped by Father Time. And yet, here we are, players carrying him off the field with most of the bleachers empty. It was more a sigh of relief. And this was the defining moment for the Milwaukee Brewers of 2010.
The 2010 team was the kind where you could get excited about watching a Jim Edmonds or a George Kottaras play baseball. Of course, Rickie Weeks had a breakout season and Ryan Braun was excellent as usual. But the Brewers simply didn't offer anything compelling except to baseball junkies like myself — I'll watch Dave Bush pitch even if it kills me, dammit.
And this is the theme of Brewers baseball. There are the exceptions. I'm told 1982 was pretty awesome, but that was seven years before I was born. 1992 was a good season too even if the Brewers didn't reach the playoffs — they were within two games. And then there was 2008, a season that bore a new generation of Brewers fans. But the rest of the time? Slim pickings, and the only way to slog through is to develop a very creepy love of Ben Sheets.
(I still miss you, Ben.)
OK. Let's reel it in.
We have forced memories from these seasons of old, but we have real memories from this season. We have the sweep of the Cardinals in June to announce the Brewers' true presence as National League contenders. We have the entire month of August, the 22-3 run, probably the best run of baseball we will ever see in Milwaukee and one of the best single-month runs in recent history.
We had Beast Mode. We saw Nyjer Morgan win over a town. We saw Ryan Braun play MVP-level baseball. We saw Prince Fielder hit for power as he always does on what was almost certainly his farewell tour, and we saw Rickie Weeks in the All-Star Game. Although no one pitcher put together a dominant season, we saw some of the best starting pitching the Brewers have seen in years from Zack Greinke, Yovani Gallardo, Shaun Marcum, Randy Wolf, and Chris Narveson, and we saw John Axford become one of the best relievers in the game today.
We had this:
And this: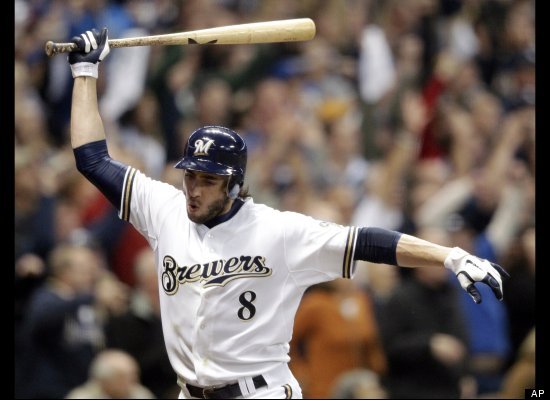 And this:
And so much more. The Brewers gave us a NL Central championship, an NLDS victory, and a great ride through it all. There will be another pennant on the Miller Park left field wall, and even though the club didn't get a National League pennant or a World Series Championship, that's something to be very proud of.
The 2011 Milwaukee Brewers won't leave the legacy they wanted to leave, but they left us so much to remember. Even as the team goes their separate ways this offseason, they will live in the hearts and minds of Brewer fans for a very long time. And even if Beast Mode leaves along with Prince Fielder this offseason, Beast Mode will never die in my heart.
Thank you, to the entire organization, for a fantastic season. And I'll see you this spring, ready and waiting for more memories.